Langley for Families Foundation Donations Exceed $1 Million in 2021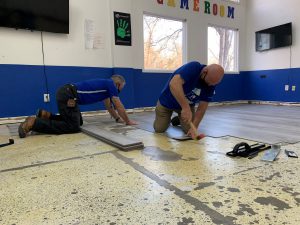 Another record high and the first year to exceed $1 million
NEWPORT NEWS, Va. – (January 6, 2022) – In 2021, Langley for Families Foundation eclipsed the $1 million milestone in annual impact with donations to local causes totaling more than $1,000,000. When combined with the philanthropic efforts of Langley Federal Credit Union, donations exceeded $1.5 million.
The donations assisted 133 regional nonprofit organizations in addition to Langley's continued support of CHKD's new mental health hospital in Norfolk. The funded organizations focused on four program areas: healthcare, housing and human services, safety and security, and education.
In 2021, Langley for Families Foundation donated $1,002,138, an 18% increase. Since its start in 2014, the Foundation has donated $3,600,000. These funds were generated from generous employees, members and successful fundraising events such as the annual golf tournament and cash raffle.
"Langley for Families Foundation allows us to make a difference in the lives of families throughout Hampton Roads by providing basic needs for those most in need, like shelter, food, and education," said President & CEO Tom Ryan. "Meeting the $1 million milestone is a huge accomplishment for our staff and our members."
Langley Federal Credit Union also made a profound economic impact in the region beyond charitable giving. With more than $3.4 billion in member deposits, $3.3 billion in member loans and more than 300,000 members, Langley has grown to be one of the top 100 credit unions in the country.
Highlights from Langley's 2021 community impact:
Donated $125,000 in scholarships to local universities, teachers and graduating high school seniors. Langley made its first scholarship contribution to the College of William & Mary this year.
Donated $10,000 to American Red Cross of Coastal Virginia to support its work relocating Afghan refugees in Virginia after the U.S. military withdrawal.
Granted $95,000 in Annual Impact Cause Grants to five organizations: Freekind, Safe House Project, Samaritan House, Survivor Ventures and Transitions in addition to providing monthly webinars and information sessions for employees on human trafficking, the selected cause for 2021.
Employee Impact
Langley's senior team volunteered to serve on 21 nonprofit Boards of Directors.
Langley employees reached a new record in 2021 by volunteering a total of 2,127 hours on community projects, an estimated value of $60,000.
During the holidays, Langley employee teams adopted 111 foster children for Christmas through Tidewater Friends of Foster Care.
Employees donated a total of $48,313 to the Langley for Families Foundation, which was matched 100% by Langley Federal Credit Union.
In November, employees hosted a food drive challenge that raised 8,358 items to benefit Samaritan House and the Virginia Peninsula Foodbank.
2021 Nonprofit Grant Recipients
| | |
| --- | --- |
| Alcove Health | Junior Achievement of Greater Hampton Roads |
| Alternatives, Inc. | Lackey Clinic |
| Alzheimer's Association | Langley Civic Leaders Association |
| American Cancer Society | Legacy of HOPE Foundation |
| American Diabetes Association | Leukemia & Lymphoma Society Inc |
| American Heart Association | LGBT Life Center |
| American Red Cross of Coastal Virginia | LINK of Hampton Roads, Inc. |
| An Achievable Dream, Inc. | Literacy for Life |
| Armed Services YMCA of Hampton Roads | Little League Baseball Inc |
| Association of Fundraising Professionals | Make-A-Wish Foundation Of Greater Virginia |
| Autism Society, Tidewater Virginia | Mariner's Museum |
| Avalon Center | Menchville House Ministries |
| Bacon Street Youth and Family Services | Mercy Medical Angels |
| Bennett Center | Middle Peninsula Warriors |
| Big Brothers Big Sisters Services, Inc. | Mutts With A Mission |
| Bon Secours Hampton Roads Foundations | Nasia Foundation |
| Boy Scouts of America, Colonial Virginia Council | Natasha House Inc |
| Boy Scouts Of America, Tidewater Council | NetworkPeninsula |
| Boys & Girls Clubs of Southeast Virginia | New Beech Grove Community Development |
| Boys & Girls Clubs of the Virginia Peninsula | New Vision Youth Services, Inc. |
| Center for Child & Family Services | Newport News Green Foundation |
| Center For Sexual Assault Survivors | Old Dominion University Educational Foundation |
| Children's Assistive Technology Service | Operation Breakingthrough Inc |
| Children's Harbor | Peake Early Child Development Center |
| Children's Hospital of The King's Daughters, Inc. | Peninsula Agency on Aging, Inc. |
| Christopher Newport University Education Foundation | Peninsula Community Foundation |
| Church Women United | Peninsula Metropolitan YMCA |
| Codeswitch Ministries Inc | Peninsula Reads |
| College of William & Mary | Peninsula Rescue Mission Inc |
| Colonial Court Appointed Special Advocate | Postpartum Support Virginia |
| Commonwealth Catholic Charities | Project Connection Foundation, Inc. |
| Communities In Schools of Hampton Roads | REACH, Inc. (Reading Enriches All Children) |
| Compassion Advocacy Network | Ronald McDonald House Charities of Norfolk VA Inc. |
| DCU for Kids | Safe House Project |
| DeGood Foundation | Salvation Army |
| Doorways | Samaritan House Inc |
| Dreams of Hope Foundation | Sleep in Heavenly Peace – Hampton, VA Chapter |
| E&B Giveback Foundation | Smithfield Packers Youth Sports |
| Echo Orphancare Partners | Smithfield Volunteer Fire Department Incorporated |
| EDMARC Inc. | Social Butterflies Foundation |
| Eliza Hope Foundation | Starbase Victory Inc |
| Enduring Keys, Inc. | STOP Inc. |
| Faison Center Inc | Suffolk Education Foundation |
| Faith Recovery | Survivor Ventures |
| Fear 2 Freedom | THRIVE Peninsula, Inc. |
| Foodbank of Southeastern Virginia | Tidewater Chapter – Tuskegee Airmen, Inc. |
| ForKids, Inc | Tidewater Friends Of Foster Care Incorporated |
| FreeKind | Transitions Family Violence Services |
| Girl Scouts Of The Colonial Coast | Union Mission |
| Gloucester Housing Partnership, Inc. | United Way of South Hampton Roads |
| Gloucester Mathews Care Clinic | United Way Of The Virginia Peninsula |
| Gloucester United Emergency Shelter Team | VersAbility Resources |
| Graz'n Acres Therapeutic Riding Center | Virginia Air & Space Center |
| Grove Christian Outreach Center | Virginia Arts Festival Inc |
| Habitat for Humanity of South Hampton Roads | Virginia Center for Inclusive Communities |
| Habitat for Humanity Peninsula & Greater Williamsburg | Virginia League For Planned Parenthood Inc |
| Hampton Ecumenical Lodging And Provisions Inc | Virginia Peninsula Crime Stoppers Inc |
| Hampton Roads Community Action Program Inc | Virginia Peninsula Foodbank |
| Hampton Roads Economic Development Alliance | Virginia Supportive Housing |
| Hampton Roads Pride | Vittles For Vets |
| Hampton Roads Refugee Relief Inc. | Voices for Kids CASA Program of Southeast Virginia |
| Hampton University | W.A.T.E.R. Team Inc. |
| Here for the Girls | Wesley Community Service Center Inc |
| Hope House | Williamsburg House of Mercy |
| Housing Development Corporation of Hampton Roads | Yeshua House Outreach Ministries |
| Housing Partnerships Inc | YMCA of South Hampton Roads |
| | Youth Volunteer Corps of Hampton Roads |
---