Foundation Awards $5,000 Grant for Emergency Shelter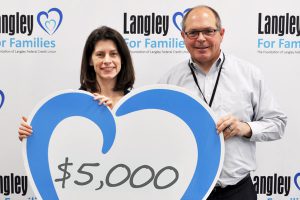 Langley for Families Foundation awarded $5,000 to ForKids, Inc. for their Regional Emergency Shelter for Homeless Families program. The donation will help the organization continue to provide safe shelter and basic needs for homeless children and their families in Greater Hampton Roads. Approximately 300 individuals from 100 families are expected to be served through the program this year.
"ForKids is thrilled to have the support from Langley for Families Foundation for our regional shelter programs," stated ForKids CEO Thaler McCormick. "Over 6,000 children experienced homelessness last year in Hampton Roads so this support is desperately needed."
About ForKids, Inc.
ForKids, Inc. has been helping homeless families for nearly 30 years in Southeastern Virginia. Their mission is to break the cycle of homelessness and poverty for families and children. Last year, the Regional Housing Crisis Hotline, operated by ForKids, received over 27,000 phone calls from local residents experiencing a housing crisis. For more information visit forkidsva.org.
---