Foundation Donates $10,000 for Financial Literacy at Thomas Nelson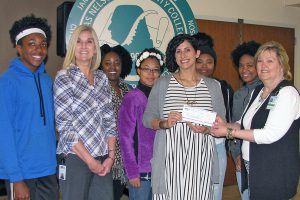 Langley for Families Foundation presented $10,000 to Thomas Nelson Community College (TNCC) in support of their Financial Literacy Workshops. The workshops were part of a partnership with three financial institutions, including Langley, which covered numerous topics such as creating a budget, obtaining and using a credit card, debt management, credit scores and fraud prevention.
"We thank Langley for Families for making a truly terrific educational program possible for our students," stated TNCC Grants Program Manager Terry Wagner, J.D. "It is inspiring to witness what can be accomplished when community partners come together to support Thomas Nelson."
Nearly 50 TNCC students participated in the workshops—30 Hampton campus nursing students and 15 Great Expectations students. The donation also helped Great Expectations students meet expenses necessary for continuing their studies at Thomas Nelson. Great Expectations launched at Thomas Nelson in 2015 and steers foster care youth ages 17-24 toward higher education and career options.
In addition to supporting the workshops, the contributions helped participating nursing students with financial needs by covering NCLEX licensing exam fees, the exam taken to receive a nursing license.
---