Langley Federal Credit Union Donated A Record $1.4 Million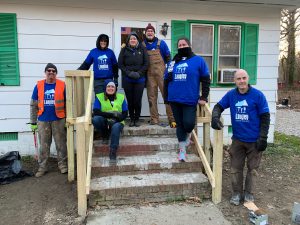 127 Nonprofits Benefit Despite 2020 Challenges
Langley Federal Credit Union and Langley for Families Foundation donated a record-breaking $1,402,468 during 2020. Langley demonstrated its commitment to the Hampton Roads community by donating more than ever and increasing its charitable giving by 30%.
Grants specifically designated for COVID-19 response totaled $364,200. Yearly donations exceeded $1,000,000 for the second consecutive year and helped 127 different organizations that provide healthcare, housing and human services, safety and security, and financial education services.
Langley also made a profound economic impact on the region beyond charitable giving throughout 2020. With more than $2.9 billion in member deposits and $2.6 billion in member loans, Langley empowers members to save, borrow, and spend wisely. Langley provides a full range of services to help members meet their individual financial goals.
Langley was recognized twice in 2020 for its community impact. Habitat for Humanity of South Hampton Roads awarded Langley the 2020 Dream Builder Award for dedication to its mission throughout 2020. And, Coastal Virginia Magazine selected Langley as a 2020 Community Impact Award recipient, given to 10 Hampton Roads businesses that go above and beyond to make a difference for others.
In 2020, Langley for Families Foundation donated $846,718, a 28% increase, and Langley Federal Credit Union donated $555,750. Funds were generated from generous employees, members and successful fundraising events, including the annual golf tournament and new cash raffle.
"We are so proud that Langley can have such a positive impact in our community," said Tom Ryan, president and CEO of Langley. "In a year where a global pandemic, economic shutdowns and social unrest impacted millions, our support to critical needs in Hampton Roads is even more vital."
Highlights from the Foundation's 2020 community impact:
Langley reaffirmed its commitment to mental health with the first payment towards a five-year $1,000,000 pledge to Children's Hospital of the King's Daughters for its new mental health hospital. The hospital will provide a full spectrum of mental health care for children, filling a critical gap in a statewide shortage of pediatric mental health services, including 60 inpatient beds and an extensive expansion of outpatient services.
COVID-19 Relief and Response
Langley donated a total of $364,200 in 43 grants for relief and recovery efforts
A virtual food drive to help the Virginia Peninsula Foodbank respond to an influx of requests for food and services, raised more than 2,100 items valued at $7,000 in less than one week
The net proceeds from two charitable cash raffles totaling $74,000 were donated to United Way Emergency Funds and Domestic Violence Shelters
Langley Federal Credit Union advanced two months of payments for personal, auto, RV/boat, and credit card loans for members, in addition to approving $16.2 million in Paycheck Protection Program loans
$127,500 in Scholarships
$70,000 to Hampton University, Christopher Newport University, Old Dominion University and Thomas Nelson Community College
$20,000 Jean M. Yokum Scholarship to graduating high school seniors
$37,500 Teacher Mini-Grant Awards in partnership with Peninsula Community Foundation was expanded from 30 grant recipients to 75 to fund all qualified requests
Employee Impact
Volunteer hours = 1,606 hours
Hosted first Day of Service in honor of Dr. Martin Luther King, Jr.
Employee giving = $43,800
2020 Nonprofit Grant Recipients
| | |
| --- | --- |
| 633 FSS/A&FRC | Lackey Clinic |
| Alcove Health | Lake Taylor Transitional Care Hospital Foundation |
| Alzheimer's Association | Langley Civic Leaders Association |
| American Cancer Society | Leukemia & Lymphoma Society Inc |
| American Diabetes Association | LGBT Life Center |
| American Heart Association | LINK of Hampton Roads, Inc. |
| American Red Cross of Coastal Virginia | Literacy for Life |
| An Achievable Dream, Inc. | Make-A-Wish Foundation of Greater Virginia |
| Armed Services YMCA of Hampton Roads | Menchville House Ministries |
| Autism Society, Tidewater Virginia | Mutts With A Mission |
| Avalon Center | Natasha House Inc |
| Bacon Street Youth and Family Services | New Beech Grove Community Development |
| Big Brothers Big Sisters Services, Inc. | New Vision Youth Services, Inc. |
| Bon Secours DePaul Health Foundation | Newport News Green Foundation |
| Boys and Girls Clubs of Southeast Virginia | Newport News Public Schools |
| Boys and Girls Clubs of the Virginia Peninsula Inc. | Norfolk Senior Center |
| Bridging The Gap Youth Program | Norfolk State University Foundation Inc |
| Center for Child & Family Services | Norfolk Submarine Officers' Spouses Assoc |
| Center For Sexual Assault Survivors | Old Dominion University Educational Foundation |
| Children's Assistive Technology Service | Operation Breaking Through Inc |
| Childrens Health Investment Program Inc | Peninsula Agency on Aging, Inc. |
| Children's Hospital of The King's Daughters, Inc. | Peninsula Community Foundation |
| Christopher Newport University Education Foundation | Peninsula Metropolitan YMCA |
| Church Women United | Peninsula Reads |
| Colonial Virginia Council, Boy Scouts of America | Peninsula Rescue Mission Inc |
| Commonwealth Catholic Charities | Peninsula School at Faison Center |
| Communities In Schools of Hampton Roads | Places & Programs Children's Harbor |
| Compassion Advocacy Network | Poquoson Museum |
| DCU for Kids | Roc Solid Foundation |
| DeGood Foundation | Ronald McDonald House Charities of Norfolk VA Inc. |
| Dove Foundation | Salvation Army |
| Downtown Hampton Child Development Center | Samaritan House Inc |
| Early Childhood Music School | Senior Center of York |
| Eastern Virginia Medical School Foundation | Seton Youth Shelters |
| EDMARC Inc. | Sleep in Heavenly Peace – Hampton, VA Chapter |
| Eggleston Services Foundation | Smart Beginnings |
| Elf Patrol, Inc | Smithfield Packers Youth Sports |
| Elmer Back Gifting Center Inc | Smithfield Volunteer Fire Department Incorporated |
| Fear 2 Freedom | St. Mary's Home for Disabled Children |
| Foodbank of Southeastern Virginia | Starbase Victory Inc |
| ForKids, Inc | The Doorways |
| Garland K. Keeling Memorial Scholarship Fund | The Union Mission |
| Genieve Shelter | Thomas Nelson Community College Educational Foundation Inc |
| Girl Scouts Of The Colonial Coast | THRIVE Peninsula, Inc. |
| Giving Garden Foundation | Transitions Family Violence Services |
| Gloucester Housing Partnership, Inc. | United Way of South Hampton Roads |
| Gloucester Mathews Care Clinic | United Way Of The Virginia Peninsula |
| Greater Williamsburg HEARTSafe Alliance | Urban League of Hampton Roads, Inc. |
| Grove Christian Outreach Center | USO Hampton Roads |
| Habitat for Humanity of South Hampton Roads | VersAbility Resources |
| Habitat for Humanity Peninsula & Greater Williamsburg | Virginia Advisory Council on Military Education (VA-ACME) |
| Hampton Baptist Church, SAME- So All May Eat | Virginia Beach Justice Initiative |
| Hampton Ecumenical Lodging And Provisions Inc | Virginia Center for Inclusive Communities |
| Hampton Education Foundation | Virginia League For Planned Parenthood Inc |
| Hampton Roads Community Action Program Inc | Virginia Peninsula Crime Stoppers Inc |
| Hampton Roads Economic Development Alliance | Virginia Peninsula Foodbank |
| Hampton University | Virginia Supportive Housing |
| Homeland Disciples Inc | Voices for Kids CASA Program of Southeast Virginia |
| Hope House | W.A.T.E.R. Team Inc. |
| Hospice House & Support Care of Williamsburg | Williamsburg House of Mercy |
| Housing Development Corporation of Hampton Roads | York County Housing & Neighborhood Revitalization |
| Housing Partnerships Inc | Youth Challenge Inc |
| Junior Achievement of Greater Hampton Roads | YWCA South Hampton Roads |
| Junior League of Norfolk-Virginia Beach Incorporated | |
---