Langley Federal Credit Union Donates $10,000 to the American Red Cross to Support Hurricane Ian Relief Efforts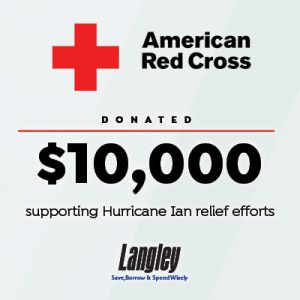 NEWPORT NEWS, Va. – (September 30, 2022) – Langley Federal Credit Union will be donating $10,000 to the American Red Cross in support of Hurricane Ian relief efforts in Florida. Ian has devastated the Fort Myers area and over a dozen surrounding counties in Florida, leaving over 2.6 million Florida households and businesses without power. The donation will help the organization continue to mobilize emergency help as needed, which includes providing safe shelter and basic needs to families impacted by the significant damages.
"The American Red Cross is grateful for the donation from Langley Federal Credit Union," said Kristopher Dumschat, Regional Communications Manager with the American Red Cross Virginia Region. "This support will allow the Red Cross to provide important relief supplies and vital services to families and individuals impacted by this destructive hurricane."
Jenny Lester, Regional Philanthropy Officer of the American Red Cross of Coastal Virginia, shared that ten Virginians have already deployed to Florida, and more will be headed there in the coming weeks with recovery efforts expected to expand.
Langley Federal Credit Union has a long history of community involvement and charitable giving dating back to the founding of the credit union in the 1930's. With a commitment to making a difference in the communities it serves, Langley for Families Foundation was launched in 2014 to support causes and charities benefiting children and families.
Langley Federal Credit Union is a federally-chartered credit union, regulated and insured by the National Credit Union Administration. Langley Federal Credit Union serves more than 345,000 members and has $4.9 billion in assets, ranking the financial cooperative as one of the 100 largest credit unions in the country. Langley is a full-service financial institution where everyone can save, borrow, and spend wisely. Located in Hampton Roads, Langley has over 670 employees, 21 branches and more than 55,000 surcharge-free ATMs throughout the region. For more information, visit www.langleyfcu.org.
---