Langley Federal Credit Union Invests $1 Million in Children's Mental Health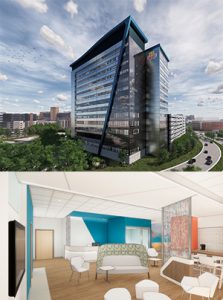 NORFOLK, Va. – (October 16, 2019) – Langley Federal Credit Union and the Langley for Families Foundation are excited to announce a $1,000,000 investment over five years in children's mental health in Hampton Roads by supporting Children's Hospital of The King's Daughters' (CHKD) new mental health hospital. CHKD has commenced construction of the 14-story building on Hampton Blvd. in Norfolk that is scheduled to open in 2022.
In recognition of its support, the inpatient family lounge in the new hospital will be named after Langley Federal Credit Union.
Hampton Roads faces a critical need for children's mental health services. In Virginia, one in five children have a diagnosable mental health condition. Unfortunately, less than 25% of those youth in need of mental health services are currently receiving treatment. That's where Langley sees a need for change.
Children are living with, and dying from, undiagnosed or untreated mental health conditions, and as Virginia's only free-standing children's hospital, CHKD is poised to make a difference. The new CHKD mental health hospital will provide:
60 inpatient psychiatric beds
A mental health education program to train and retain professionals in the field
An expansion of outpatient mental health therapy services
A comprehensive day treatment program
"CHKD has led the field in addressing the mental health crisis for children in our community," said Langley Federal Credit Union President/CEO Tom Ryan. "At Langley, we believe in their vision and recognize the positive impact this initiative can have on many of our community's challenges."
"We are building hope inside the walls of this new hospital, but it will take our entire community working together to change the future for our children," says CHKD CEO and President Jim Dahling. "We are grateful to our loyal friends at Langley Federal Credit Union for their keen understanding of this issue and their early, pacesetting support of this important initiative."
CHKD has developed, and continues to build, a coordinated team of clinicians across the fields of psychiatry, psychology and mental health outpatient therapy to treat patients with quality, evidence-based practices. The goal with the new mental health hospital is to prevent children from staying sometimes days in the emergency room while waiting for a bed in a psychiatric center or from being sent to an out-of-state facility away from family. For more information on CHKD's Lighting the Way mental health initiative, visit CHKD Mental Health Initiative.
---