Langley For Families Donates $76,000 To COVID-19 Relief Efforts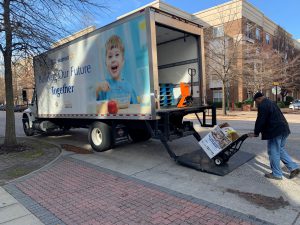 NEWPORT NEWS, Va. – (April 13, 2020) – Langley For Families Foundation approved $76,000 in grants to eight local agencies on the frontlines helping individuals and families affected by the COVID-19 outbreak. A list of grant recipients is listed below:
 American Red Cross of Coastal Virginia
Virginia Peninsula Foodbank
LGBT Life Center
Peninsula Rescue Mission
ForKids, Inc.
Williamsburg House of Mercy
The Doorways
Samaritan House
The Foundation announced two changes to support COVID-19 relief efforts.
The April Cash Raffle goes on sale today. All $20 tickets must be purchased online at https://www.langleyforfamilies.org/raffle/. Only 3,000 tickets will be sold. The drawing will be held May 4 to announce the $20,000 winner, and 100% of the proceeds will be donated evenly to United Way of the Virginia Peninsula and United Way of South Hampton Roads in support of their Coronavirus response plans
Additionally, the Foundation will allocate all online donations to COVID-19 relief efforts throughout April and May.
Langley Federal Credit Union has a long history of community involvement and charitable giving dating back to the founding of the credit union in the 1930's. With a commitment to making a difference in the communities it serves, Langley for Families Foundation was launched in 2014 to support causes and charities benefiting children and families.
---