Langley for Families Foundation Announces Annual Make A Difference Donations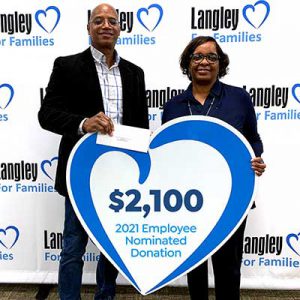 Newport News, Va. – (December 9, 2021) – Langley Federal Credit Union employees nominated local non-profit agencies for their annual Make a Difference Donations. These donations are comprised of employee payroll deduction gifts and matching funds from the Langley for Families Foundation. This year, employees raised $42,000 that was matched for a total of $84,000. Employees participating in the payroll deduction program are invited to nominate agencies that inspire them for the funds.
A total of $84,000 was donated to 34 organizations nominated by 40 employees. A list of Make a Difference Donation recipients is below.
Make A Difference Donation Recipients
| Non-Profit Agency | Employee Donor |
| --- | --- |
| Alcove Health | Angeli Chesson |
| Alternatives, Inc. | Erin Sullivan |
| Azalea Little League | Jason Tuttle |
| Boys & Girls Clubs of the Virginia Peninsula | Tom Ryan |
| Center for Child & Family Services | |
| Center for Sexual Assault Survivors | Sarah Williams |
| Children's Hospital of the King's Daughters | Faith Bodine |
| Children's Hospital of the King's Daughters | Deb Vollmer |
| Colonial Virginia Council, Boy Scouts of America | Will Sampson |
| The E&B Giveback Foundation | Michelle Watson |
| Edmarc | Robin Huxford |
| Faith Recovery | Kim Rath |
| Fear 2 Freedom | Fred Hagerman |
| ForKids | Lamanda Albergottie |
| FreeKind | Jose Iregui |
| FreeKind | Laurel Ramey |
| Hope House | Kristi Forehand |
| Housing Partnerships | Curtis Baker |
| Hampton Roads Community Action Program | Sandy Steward |
| LGBT Life Center | Miles Burcher |
| LGBT Life Center | Jeff Gehris |
| LINK of Hampton Roads | Rob Lefkowicz |
| Middle Peninsula Warriors | Shamika Monroe |
| Mutts For A Mission | Jessica Pierce |
| New Beech Grove Community Development Corporation | Terri Berry |
| Operation Breaking Through | Richetta Brown |
| Peninsula Agency on Aging | Kathy Bowman |
| Peninsula Agency on Aging | Ingo Huemer |
| Planned Parenthood – Hampton | Jason Portell |
| Planned Parenthood – Virginia Beach | Emily Hawkins |
| Rhythm Project of Virginia Arts Festival | Alex Curinga |
| Smithfield Packers Youth Sports | Lindsey Kelly |
| Smithfield Volunteer Fire Department | Lahnie Reilly |
| STOP Inc | Laura Winn |
| Thrive Peninsula | Kim Bradley |
| Voices for Kids CASA Program of Southeast Virginia | Barbara Rosa |
| We Are The Echo | Amy Scott |
| Yeshua House Outreach Ministries | Shetika Pope |
| York County Food Closet | Crystal Slaughter |
---