Langley For Families Foundation Donates $36,000 From June Cash Raffle to Hampton Roads Domestic Violence Shelters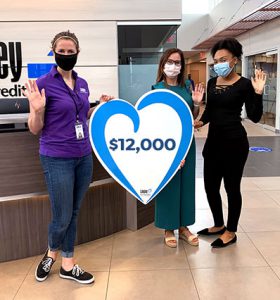 NEWPORT NEWS, Va. – (June 15, 2020) – Langley For Families Foundation donated 100% of the net proceeds from its latest cash raffle fundraiser – a total of $36,000 – to four local domestic violence shelters in need of additional resources. The grantees are Avalon Center, Samaritan House, Transitions Family Violence Services and YWCA South Hampton Roads.
"These are very difficult times for many of us, but for domestic violence victims who are trapped at home with their abusers, it can be deadly," said Alexandra Howe, YWCA South Hampton Roads' director of development. "We remain steadfast in our commitment to victims of violence and have quickly adapted our services to continue serving those who are most vulnerable in our community."
Each of the four shelters have seen an uptick in requested services. As these organizations serve current and new victims and adapt to social distancing requirements, they are facing unexpected costs, including additional hotel rooms, higher operating expenses from residents staying home and an increased need for services.
"Through philanthropic commitments from organizations like Langley, we have been able to house clients in hotel rooms adhering to CDC guidelines for social distancing, offer our counseling services via telehealth and continue providing crisis services 24-hours per day through our hotline," said Howe.
To date, Langley Federal Credit Union and Langley for Families Foundation have donated $236,500 to COVID-19 relief through grants, cash raffle proceeds and a virtual food drive.
"Our staff at Avalon Center are stretched thin and working hard every day for our clients, risking their own health to do so," said Teresa Christin, executive director of Avalon Center. "I feel inspired by each of them, and by our community, when we see this type of assistance, so we are grateful for the Foundation's support."
The next Langley For Families Foundation cash raffle is on sale now. All $20 tickets must be purchased at https://www.langleyforfamilies.org/raffle/. Only 3,000 tickets will be sold, and the drawing will be held June 29 to announce the $20,000 winner. Langley will donate 100% of the proceeds via grants to local non-profit organizations helping families in Hampton Roads.
---