Langley for Families Holiday Food Drive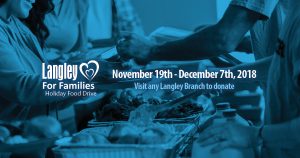 Join us in giving back this holiday season to end hunger in Hampton Roads.
Who: Langley Federal Credit Union – members, employees, and the surrounding community.
What: A food drive to benefit local organizations working to end hunger.
When: November 19, 2018 – December 7, 2018
Where: All Langley Federal Credit Union branches and locations. Find a branch today!
Why: To do our part and give back to the Hampton Roads community this holiday season.
All food collected will be donated to the Foodbank of Southeastern Virginia and the Eastern Shore and the Virginia Peninsula Foodbank.
SUGGESTED ITEMS
Lean Canned Protein (peanut butter, tuna, chicken, turkey, beans)
Fruits and Vegetables (canned fruits and vegetables, pasta sauce, 100% fruit juice, fruit preserves, dried fruit)
Whole Grains (cereal, pasta, oatmeal, rice, crackers)
Meals (soups, stews, boxed meals, canned pasta)
Baby Products (formula, baby food, diapers, wipes)
Low Fat – Low Sodium – Low Sugar Products Preferred
Please remember: Non-perishable food only, non-breakable containers only, nutritional labels intact, check dates (items can be up to 6 months past printed date).
---