Langley for Families Supports Numerous Roof Repairs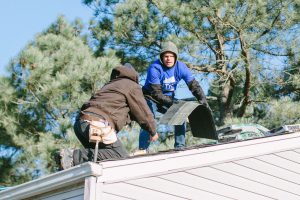 Langley for Families granted $5,000 to Gloucester Housing Partnerships (GHP) in December 2019, and the organization quickly put the funds to work repairing roofs for individuals and families living in low-income communities. GHP detailed the work done to three different homes:
Home #1 – Fixed leaks on the home of a widowed gentleman living on a fixed income by apply two coats of cool seal to the metal roof. The homeowner has reported no leaks since the work was completed.
Home #2 – The homeowner had specific leaks around the chimney. GHP removed the damaged areas, then replaced with new plywood, tar paper, shingles, flashing, and sealant. All leaks have been resolved by this work.
Home #3 –  A family with three generations living with limited income sources was unable to replace their roof. GHP replaced the entire roof and all rotten plywood to keep them dry.
Additionally, during Langley's first Day of Service on January 20, volunteers replaced three roofs with Housing Partnerships, Inc. in Yorktown. During that day, 213 volunteers worked a total of 1,214 hours. Langley for Families is proud to support important work like Gloucester Housing Partnership and Housing Partnerships for families in Hampton Roads communities.
---