Langley's 2020 Day of Service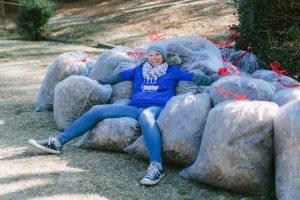 Langley Federal Credit Union employees, friends and family members honored Martin Luther King, Jr. on January 20, 2020 by volunteering throughout the Hampton Roads community. A total of 213 volunteers worked a combined 1,214 hours to make a difference and honor Dr. King's legacy.
Partnering with Housing Partnerships, Inc. (HPI) and York County, the Langley team worked on 12 homes at Leigh Road in York County. The work included three new roofs, multiple windows and doors, flooring, painting and yard work. One homeowner received a new hot water heater, and another got a new air conditioning unit. To kick off the day, York County Board of Supervisors Chairman Chad Green personally thanked the 185 volunteers. Spirits were high and the energy was contagious, despite the 28-degree weather.
In Chesapeake, 22 volunteers completely re-vamped the reception area of Children's Health Investment Program (CHIP). They tackled sticky walls covered in wallpaper glue, updated the bathroom with new furniture and a changing table (important for a non-profit that serves families with newborns), and hung new, colorful photos on the freshly painted walls. The CHIP employees were stunned with the transformation and grateful that their welcome area is now a warm reflection of their important work.
---