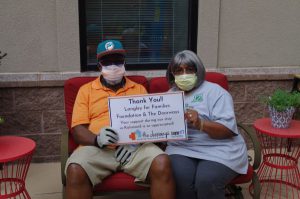 The Doorways' mission is to provide lodging and support for patients and their loved ones who need to be close to the hospital, but not far from the feeling of "home." Located in Richmond, VA, The Doorways serves families receiving treatment at VCU Health, Veterans Affairs Medical Center, Virginia Treatment Center for Children, Hospice of Virginia, and more.
The facility has 117 private rooms with baths, plus shared facilities including fully stocked kitchens, pantries, family dining rooms, TV lounges, a library, a chapel, a fitness room, and 24-hour laundry. The organization was founded in 1984 and has since housed more than 175,000 people, averaging about 10,000 per year recently. The guest book shows visitors from all 50 states and 31 foreign countries. In 2019, The Doorways served nearly 1,500 guests from the Hampton Roads region.
The Doorways asks for a donation of $15 per night from guests, but does not turn away those who cannot pay. Approximately 53% of guests cannot make a contribution to the suggested donation. The average stay is six days, but some stay just one or two days, while transplant patients may stay for six to eight months.
The Doorways received their first grant from Langley for Families Foundation in April 2020 for $5,000 to support their services through COVID-19. To learn more about The Doorways, visit their website!
---