Smart Beginnings Receives $10,000 from Langley for Families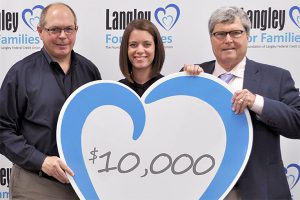 Langley for Families Foundation awarded $10,000 to Smart Beginnings Virginia Peninsula for support of their Behavioral Intervention Team Social Emotional services (BITSE) and the 2017 Director's Academy.
"Last year, over 30 child care centers participated in the Director's Academy, impacting hundreds of children across the community," stated Smart Beginnings Executive Director Bruce Myers. "Social-emotional skills in children are the key for school readiness, and this grant will also help fund the important work of our Behavioral Intervention Team."
BITSE provides education and awareness to providers, families and the community as to the importance of early childhood social/emotional development. The BITSE team provides trainings and workshops to parents and providers surrounding childhood development and developmental milestones. In addition, BITSE consultants are trained to observe children who are exhibiting problematic behavior and can offer feedback and strategies to staff and families for "next steps" that should take place in the assessment of an individual child.
The annual Directors' Academy is an opportunity for area child care leaders to gather for two days and learn strategies for operating a successful business through a variety of interactive seminars. This year's academy will be held July 21-22 at Christopher Newport University in Newport News. Between 75-100 providers are estimated to attend.
About Smart Beginnings Virginia Peninsula
For more information on the Directors' Academy, Smart Beginnings programs, or how to donate, please visit: smartbeginningsvp.org.
---