W.A.T.E.R. Team Responds to Foodbank's Need for Volunteers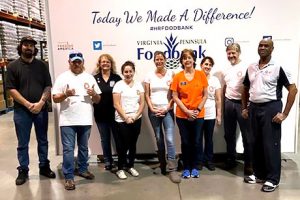 A 2019 Langley for Families grantee, W.A.T.E.R. Team, has already started responding to help those in need during the COVID-19 outbreak. W.A.T.E.R. Team is a Hampton Roads non-profit agency started in 2018 to respond to natural disaster flooding, but they recognize their ability to help in any disaster. They are a group of military veterans, all volunteers, who typically provide water rescue and evacuations during floods anywhere in the eastern United States. W.A.T.E.R. is an acronym for We Are The Emergency Response. Volunteers currently live in Newport News, Hampton, Virginia Beach, and Isle of Wight County. While most volunteers own a boat, it is not a requirement to join. Volunteers without rescue skill sets can also join the auxiliary group, who supports W.A.T.E.R. team with tasks like filling comfort bags and fundraising.
In fact, this group is currently filling emergency volunteer roles in the community, like packing boxes and backpacks of food for families in need. This week, they helped The Virginia Peninsula Foodbank stuff 288 boxes and 914 backpacks.
The Virginia Peninsula Foodbank, who has seen a significant increase in need for assistance, has started providing grab and go meals and snacks through their Kids Cafe' sites (about 160 per day), plus maintaining their Food for Kids Backpack program. They are still accepting food donations and also offering an option to host a virtual food drive.
Learn More about W.A.T.E.R. Team
Learn More about Virginia Peninsula Foodbank's COVID-19 Needs
---