Youth Volunteer Corps of Hampton Roads Makes Important Donation Despite Cancelled Canstructure Competition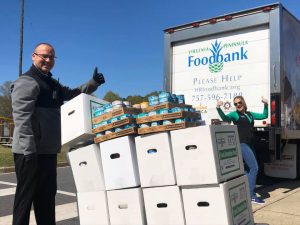 Non-profit agencies are among those affected by stay-at-home orders and cancelled events. Often times, agencies rely on these fundraisers to generate critical revenue to continue services.
Youth Volunteer Corps of Hampton Roads (YVCHR) had to cancel its 9th Annual Canstructure Competition scheduled for April 25, an event that generates thousands of pounds of food for Virginia Peninsula Foodbank. YVCHR has initiated a plan to postpone and split their annual competition, now hosting a Junior Canstructure Competition (K-5) in the fall on November 14 and leaving the Canstructure Competition for middle and high schools in the spring.
But for this year, schools across the Peninsula had already gathered food before the school closures in mid-March. YVCHR teamed up with Virginia Peninsula Foodbank and the public school systems to gain access to the schools to collect those donated goods, which are much-needed right now at the Foodbank. Items are now being prepped for distribution to the local Hampton Roads community in need.
YVCHR is still hosting a virtual food drive to support the Foodbank, and donations can be made online.
---