Habitat for Humanity Announces Langley Federal Credit Union As Its 2020 Dream Builder of the Year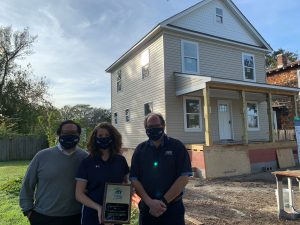 NORFOLK, Va.– Habitat for Humanity of South Hampton Roads (Habitat SHR) is proud to announce that Langley Federal Credit Union has been selected as its 2020 Dream Builder of the Year.
The Dream Builder Award is presented annually to the individual or organization which best exemplifies the commitment of supporting the mission to build affordable homes that strengthen families and communities in South Hampton Roads.
Langley's partnership and commitment to Habitat SHR began in 2017 when it provided sponsorship support for a special house project in Virginia Beach. As a legacy gift, the parents of a son who tragically died in a house fire subsequently donated the land for a Habitat home. The donation provided an opportunity for a low-income deserving family to achieve the dream of home ownership.
During 2020, Langley was the primary sponsor of a much needed replacement construction vehicle and provided a COVID-19 Relief Grant as well as funding for a home currently under construction in the South Norfolk Historical District of Chesapeake. Langley's support also included a sponsorship of the Women Build Week in August that empowered teams of women to help build an affordable home for a mother and daughter first-time homeowners.
---