Langley Employees Support 94.9 The Point's Radiothon for CHKD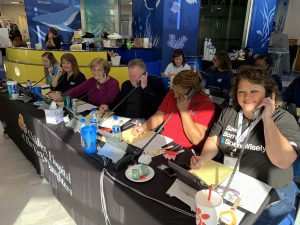 Over a dozen Langley employees reported to CHKD's lobby on November 6-8 instead of their offices to volunteer their time manning the phone banks for 94.9 The Point's 18th Annual Radiothon. The long-standing tradition raises thousands of dollars for Children's Hospital of The King's Daughters.
Hosts Mike Powers and Woo-Woo broadcast live from the atrium at CHKD's main hospital until 6pm for three days in a row. Donations support important hospital needs such as:
infant incubators for babies weighing less than two pounds
Pediatric medical research
Child Life department services
Red wagons to transport pediatric patients between surgeries and procedures
CHKD's milk bank
Buddy's Brigade, the team of dogs that visit the hospital each day
This year, Langley sponsored Emma's story, a young girl who struggled with anxiety and panic attacks. She was consumed by daily worries about becoming sick and begged to be homeschooled. Desperate for help, her parents called CHKD. After careful evaluation, CHKD mental health specialists recommended medication and weekly therapy sessions, which helped Emma learn tactics to cope with and control her anxiety. Today's she's in high school and on the cheerleading team.
---