Langley for Families and Boomer Esiason Foundations support Cystic Fibrosis Center at CHKD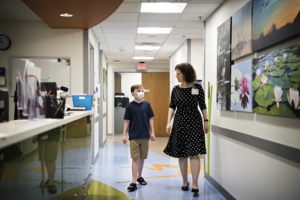 In partnership with the Boomer Esiason Foundation, the Langley for Families Foundation proudly supported the awarding of a $50,000 grant to the Cystic Fibrosis Center at Children's Hospital of The King's Daughters. CHKD provides integrated, multidisciplinary care for nearly 150 children and young adults with cystic fibrosis every year.
Plans for the generous gift include relocating the center's pulmonary function testing room, installing new technology in several exam rooms, and providing a dedicated space for educational resources for patients and families.
"Part of my foundation's mission includes our intent to provide students and hospital staffs with the financial resources and educational tools they need to prepare for life's challenges and to create a legacy of quality healthcare for generations to come," says Boomer Esiason, chairman of the Boomer Esiason Foundation. "Support from our relationship with Langley Federal Credit Union has enabled us to grant funds to Children's Hospital of The King's Daughters for its cystic fibrosis resource room. We are delighted to be part of these enhancements."
"Langley Federal Credit Union and its Foundation have proudly supported the children at CHKD for 22 years and are happy to continue that support by awarding this grant with the Boomer Esiason Foundation to CHKD's Cystic Fibrosis Center," says Tom Ryan, CEO of Langley Federal Credit Union. "Our goal is to help provide the resources needed to give children with cystic fibrosis the best care possible."
"We are grateful for this generous grant from the Boomer Esiason Foundation and Langley for Families Foundation. This gift will help to enhance communication between the clinical staff, patients, and families at CHKD's Cystic Fibrosis Center, and allow us to better serve the needs of children who are battling cystic fibrosis," says Lauren Kiger, director of corporate relations and events for CHKD.
---