Langley for Families Awards $267,000 in Grants to Local Nonprofits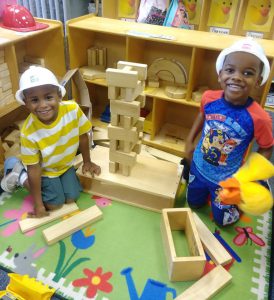 Langley for Families announced $267,000 in grant awards after its third-quarter grant cycle, bringing the 2019 total giving to $914,040. Across Hampton Roads, 34 nonprofit agencies received a grant award.
 One recipient is the Downtown Hampton Child Development Center (DHCDC) with a grant in the amount of $10,000 for its STREAM initiatives.
 DHCDC is a private nonprofit childcare center serving children from all backgrounds, incomes, and abilities – nearly 200 children annually, ages six weeks to five years. DHCDC was the first childcare center on the Peninsula to be accredited by the National Association for the Education of Young Children, and remains in the top 7% of preschools nationwide. What sets DHCDC apart is the sliding-scale tuition rate, where families pay based on income and need, making important services like childcare accessible to more families. In fact, 81% of DHCDC families live at or perilously close to the Federal poverty guidelines.
 "DHCDC is filling an important need for child care services in our community, especially for young or single parents trying to grow a career," said Langley's Foundation and Events Director Laurel Ramey. "The average parent pays a third of what it costs to educate their child, and the rest is funded by community support."
 STREAM is an acronym for science, technology, reading, engineering, arts and mathematics. The basis of the STREAM movement was the growing concern that students were not prepared for the high-tech jobs of the future. "At DHCDC, we have seen how critical a well-rounded education is for our students, particularly engaging, hands-on learning opportunities," shared DHCDC's Executive Director Heather Livingston.
 In Virginia, one third of students start kindergarten lacking the skills needed for success. The funds from Langley for Families will be used to purchase interactive classroom supplies and pay for subject-matter specialists to help DHCDC students and teachers. The goal is to prepare the students for success in school and life beyond, allowing them to grow into strong, productive citizens and continue to drive the Hampton Roads region forward.
 The following organizations also received grants from the Langley for Families Foundation in the 3rd quarter of 2019:
Alzheimer's Association
American Heart Association
An Achievable Dream
Armed Services YMCA of Hampton Roads
Bon Secours Mary Immaculate Hospital Foundation
The Compassion Advocacy Network
Downtown Hampton Child Development Center
EDMARC Inc
The Faison Center
Fear 2 Freedom
Giving Garden Foundation
The Gloucester Mathews Care Clinic
Hampton Roads Haven
Hampton Roads Workforce Foundation
Housing Partnerships
Lackey Clinic
LGBT Life Center
LINK of Hampton Roads
Literacy for Life
Make-A-Wish Foundation of Greater Virginia
The Mariner's Museum
One Child Center for Autism, Inc
Ronald McDonald House Charities of Norfolk
St. Mary's Home for Disabled Children
Starbase Victory, Inc.
Stop Abuse, Inc.
Suffolk Education Foundation
The Union Mission
The USO of Hampton Roads and Central Virginia
VersAbility Resources
Virginia Beach Justice Initiative
Virginia Peninsula Foodbank
W.A.T.E.R. Team, Inc.
Youth Challenge
Langley Federal Credit Union, founded in 1936, is a federally chartered credit union, regulated and insured by the National Credit Union Administration. Langley Federal Credit Union serves more than 265,000 members and has more than $3 billion in assets, ranking the financial cooperative as one of the 100 largest credit unions in the country. Langley is a full service financial institution where everyone can save, borrow, and spend wisely. Located in Hampton Roads, Langley has 19 branches and more than 55,000 surcharge-free ATMs throughout the region. 
---