Langley for Families Foundation Announces Annual Employee Nominated Donations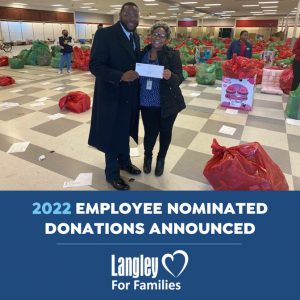 Newport News, Va. – (December 29, 2022) – Langley Federal Credit Union employees nominated local nonprofit agencies for their annual Make a Difference Donation Campaign. These donations are comprised of employee payroll deduction gifts and matching funds from the Langley for Families Foundation. Employee giving reached an all-time high over the course of 2022 with $51,555 donated through Langley's payroll giving program. When combined with LFCU's 100% match, the Foundation distributed $103,110 end-of-year donations to employee-selected nonprofits!
At the end of the year, Langley employees who have been donating by payroll deduction are invited to nominate a nonprofit agency of their choice to receive a portion of the collective contributions made through the payroll giving program. A total of 65 nonprofit organizations were nominated by at least one Langley employee to receive an end-of-year donation, with each nomination benefitting the nonprofit by $1,322. All employee-nominated agencies are listed below, and Langley donors were given the option to personally deliver these donations to their nonprofit of choice (pictured below).
2022 Employee Nominated Nonprofits
| | |
| --- | --- |
| Nonprofit Name | Employee Donor |
| Alternatives, Inc | Erin Sullivan |
| American Cancer Society | Anonymous |
| American Red Cross of Coastal Virginia | Lisa Shealey |
| Barry Robinson Center | Anonymous |
| Boy Scouts of America – Colonial Virginia Council | William Sampson |
| Boys and Girls Club of Virginia Peninsula | Tom Ryan |
| Care Net Peninsula | Heather Caldwell and Angeli Chesson |
| Center for Child and Family Services | Nicole Baker |
| Center for Sexual Assault Survivors | Brandy Scarborough and Bonnie Walker |
| Children's Hospital of the King's Daughters (CHKD) | Tina Cortado, Deb Vollmer, Melinda Wren, and (2) Anonymous |
| CHIPS | Najib Khan |
| Connect With A Wish | Anonymous |
| Council of Virginia Beach Volunteer Rescue Squads | Michelle DeMuro |
| Crisis Pregnancy Center of Tidewater | Anonymous |
| Daniel's Grace | Lisa Brickson |
| Eastern Virginia Medical School – Strelitz Diabetes Center | Anonymous |
| Edmarc | Jerome Fowlkes and Robin Huxford |
| Elmer Back Gifting Center | (2) Anonymous |
| Faith Recovery | Kim Rath |
| Families of Autistic Children of Tidewater (FACT) | Amy Mallinson |
| Fear 2 Freedom | Fred Hagerman |
| Food Closet of York County – Church Women United | Anonymous |
| FreeKind | Jose Iregui |
| G.R.O.W Foundation | Anonymous |
| GVBK The Giveback Foundation | Anonymous |
| Hampton Roads Community Action Program (HRCAP) | Sandy Steward |
| Hampton Roads Pride | Felisa Carrington |
| Hampton Roads Refugee Relief | Daphne D. Porter |
| HELP, Inc. | Anonymous |
| HER Shelter | Tonya Brown |
| Hope Vibes | Eric Shoen |
| Lackey Clinic | Kristi Forehand |
| Leukemia & Lymphoma Society | Jason Tuttle |
| LGBT Life Center | Miles Burcher and Caroline Raulerson |
| LINK of Hampton Roads | Robert Lefkowicz |
| Make-A-Wish Foundation | Michael Alston |
| Mercy Chefs | Anonymous |
| Mutts With a Mission | Casey Fry and Anonymous |
| PANCAN – Pancreatic Cancer Action Network | Samantha Estness |
| Patient Advocate Foundation | Amy Scott |
| Peake Childhood Center | Jennifer Edwards |
| Peninsula Agency on Aging Inc. | Ingo Huemer |
| Planned Parenthood – Hampton Health Center | Jason Portell |
| Poquoson Education Foundation | Amanda Berg and Michael Berg |
| Riverside Foundation: Bethune Hill Community Health Clinic | Anonymous |
| Salvation Army Peninsula Command | Alyssa Towns and Anonymous |
| Samaritan House | Anonymous |
| Tabb High Tiger Band Parents Association Inc. | Sheila Brown |
| The Governor's School for the Arts Foundation | Lindsey Kelly |
| The Rhythm Project of Virginia Arts Festival | Alex Curinga |
| The Safe House Project | Anonymous |
| THRIVE Peninsula | Kimberly Bradley and Anonymous |
| Tidewater Youth Services Foundation | Daniella Leticia Reed |
| Transitions Family Violence Services | Jamie Darden |
| Union Mission | Rosemary Ralston |
| United Way of the Virginia Peninsula | Liz Wolfson |
| Virginia Peninsula Foodbank | Anonymous |
| Voices for Kids CASA Program of Southeast Virginia | Lahnie Reilly |
| Western Tidewater Free Clinic | Barbara Rosa |
| Williamsburg House of Mercy, Inc. | Anonymous |
| YWCA South Hampton Roads | Kelli Ragland |
---