Langley for Families Foundation Q2 Giving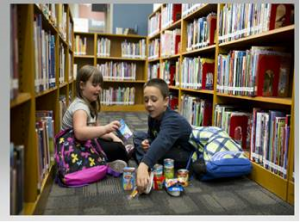 NEWPORT NEWS, Va. – The Langley for Families Foundation has awarded over $136,000 so far in 2018 to 20 different organizations. Among many others, the Foodbank of Southeastern Virginia and the Eastern Shore received $13,000 to support their efforts to eliminate hunger in our community. Specifically, Langley chose to support the BackPack and Mobile Pantry programs- which both serve hard-to-reach segments of the population.
The nationally-recognized BackPack program discretely distributes nutritious food to children at the end of the school day, before weekends and/or school breaks to students identified by school personnel as being food insecure by a variety of criteria. More than 87,000 children in the Foodbank's area are eligible to receive free or reduced-price school lunches – a reliable indicator that hunger and food insecurity regularly threaten their respective lives. At present, the Foodbank serves 51 elementary schools in our area including schools in Tidewater and on the Eastern Shore.  This year, we will distribute over 68,700 bags to over 3,400 students through this Program.
"Our BackPack and Mobile Pantry programs enable us to increase our footprint in the community to provide more resources and services to children and families facing food insecurity," said Ruth Jones Nichols, CEO of the Foodbank of Southeastern Virginia and the Eastern Shore.  "Langley for Families Foundation's commitment to making a difference in the lives of children and family in Hampton Roads aligns well with our mission, and we are grateful for their $13,000 donation as we work to eliminate hunger in our community."
The Mobile Pantry program is hugely successful in providing a means for individuals and families to receive food when they cannot travel to an agency, or their local agency is at-capacity. During fiscal year 2017, the program distributed 1.53 million pounds of food to individuals who either could not travel to an agency or their local agency was at capacity.
The following organizations also received grants from the Langley for Families Foundation in the 2nd quarter of 2018:
American Heart Association
ARDX Foundation
Bacon Street Youth & Family Services
Center for Child and Family Services
Children's Health Investment Program of South Hampton Roads
Foodbank of Southeastern Virginia and the Eastern Shore
ForKids, Inc.
Housing Development Corporation of Hampton Roads
Hospice House and Support Care of Williamsburg
Williamsburg House of Mercy
Ida Barbour Early Learning Center
Kennedy's Angel Gowns
Lackey Clinic
NATASHA House
St. Mary's Home for Disabled Children
The Peninsula Metropolitan YMCA
The Union Mission
Virginia Peninsula Foodbank
Peninsula School at the Faison Center
---