NATASHA House Receives Big Hearted Donation from Langley for Families Foundation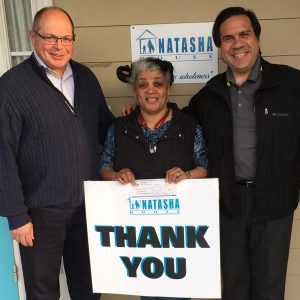 Langley for Families Foundation presented a $2,500 check to NATASHA House, Inc. The organization provides a safe place for women and children, allowing them to rebuild productive, thriving lives as they transition to permanent housing.
The letters "NATASHA" stand for "New Alternative Toward A Secure Home Atmosphere." NATASHA House is the only transitional home for women on the Peninsula. The home has five independent residence units with one of the units reserved for a homeless female veteran. A volunteer staff member is on duty 24-hours a day and maintains a secure entrance which provides a safe harbor for the women and children.
"NATASHA House welcomes and appreciates the Langley for Families Foundation's support in helping us continue being a "Bridge 2 Wholeness," stated NATASHA House Executive Director Karen Brown. "We strive to empower homeless women and their families, and at-risk children with the necessary tools to achieve and maintain self-sufficiency. Our work is grounded in the belief that women and children need the safety, security, accountability, and permanency of a home to develop, heal, and to achieve lifelong success."
---