Langley Federal Credit Union Donates $25,000 to Hawaii and Hilary Disaster Relief Efforts through American Red Cross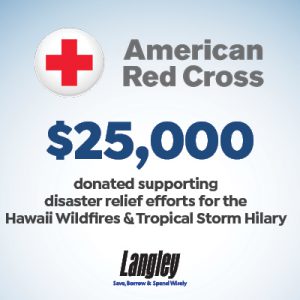 NEWPORT NEWS, Va. – (August 24, 2023) Langley Federal Credit Union is donating $25,000 to the American Red Cross supporting relief efforts for recent disasters across multiple western states including the Hawaii Wildfires and the aftermath of Tropical Storm Hilary.
The American Red Cross disaster teams opened emergency shelters in California, Arizona and Nevada on Sunday after Tropical Storm Hilary's heavy rain caused flooding, power outages and numerous rockslides across Southern California. Debris, mud, and rocks have blocked roads and in some cases, left residents trapped in their homes.
In addition, the American Red Cross has continued to work around the clock to deliver compassionate and equitable care to the many who are picking up the pieces following the wildfires in Hawaii. The American Red Cross is helping transition displaced residents from congregate shelters to hotels to give families and individuals a comfortable and safe place to stay near their community while more permanent housing plans are developed.
"This donation will help the American Red Cross continue to mobilize emergency help to those directly impacted by these crises," stated Jerome Fowlkes, Langley's CHRO and Langley for Families Foundation Board Member, "Langley appreciates the lifesaving work the disaster relief teams are providing to thousands of households in need of safe shelter and basic needs in these challenging times."
"Langley Federal Credit Union's generosity allows the Red Cross to provide critically important aid to people impacted by the devastating wildfires in Maui, and by Hurricane Hilary in California," said James Hatcher, CEO of the American Red Cross – Virginia Region. "This contribution will allow the Red Cross to provide a variety of important services to impacted families as they navigate through their recovery process."
Langley Federal Credit Union has a long history of community involvement and charitable giving dating back to the founding of the credit union in the 1930's. With a commitment to making a difference in the communities it serves, Langley for Families Foundation was launched in 2014 to support causes and charities benefiting children and families.
Langley Federal Credit Union is a federally-chartered credit union, regulated and insured by the National Credit Union Administration. Langley Federal Credit Union serves more than 365,000 members and has $5 billion in assets, ranking the financial cooperative as one of the 100 largest credit unions in the country. Langley is a full-service financial institution where everyone can save, borrow, and spend wisely. Located in Hampton Roads, Langley has over 700 employees, 21 branches and more than 55,000 surcharge-free ATMs throughout the region. For more information, visit www.langleyfcu.org.
---